Ultimate Fantasy

by

Queer AI

NFT collection of art, poetry, short stories, and audio generated by Queer AI, an artificial intelligence trained on a corpus of queer theatre. NFT profits will go towards funding Unsupervised Pleasures.
OUR WORK
Unsupervised Pleasures
DIY community library and practice space using queer methodologies, glitch feminism, decolonial and other non-normative frameworks to create datasets, machine learning models, bots, zines, publications, and art with AI
Ultimate Fantasy 25 Sodom or Gomorra
For Us
NFT sales will fund
GPU cloud computing time
fine-tuning GPT-J models
hosting custom GPT-J models
workshop facilitators
community moderators
zines and art publications
bot releases
custom software
For Collectors
Pleasure.
Collect strange and beautiful digital artworks and texts generated by Queer AI. Upgrade to unlock access to unique erotic audio poems, a limited edition printed catalog, and limited edition audio cassette of stories read from the collection. That's it!
For Artists
Queer Everything.
Do you create AI-generated art and texts? Do you build AI-powered chatbots or poetry bots? Do you make videogames, write songs, speculative fiction or have a practice that calls for un/worlding? NFT holders get early access to tools and datasets built by us to un/make your projects.
For Educators
Unlearning.
Tired of bias in AI? Help us challenge the capitalist, racist, transphobic, homophobic, misogynistic, xenophobic, settler-colonial, ableist ideologies baked into machine learning datasets and models. Help us create new datasets and tools that center historically excluded and misrepresented people and knowledge – respectfully – with consent and citations.
For Collaborators
Join us.
Meet other kin using queer methodologies, glitch feminism and decolonial approaches to find pleasure and un/make things with A.I. Contribute subject matter expertise, help curate datasets, come to a workshop, and make new friends! Funds raised thru NFTs sales will help pay stuff we need to exist.
FAQ
NFTs will be available for purchase directly on this website. Payments will be processed on HeyLayer.com. Collectors can buy NFTs using a Credit Card or STX Wallet. Digital wallet NOT required to purchase.
For cash donations:

venmo @queerai

For crypto donations:

queerai.btc
queerai.tez

For in-kind donations:

If you are in tech, it would be amazing to get some GPU cloud computing time or hardware suitable for fine-tuning and running GPT-J machine learning models.

If you are a publisher, library, archivist, we would love access to any digital archives, especially those focused on LQBTQIA+ histories; unending love for any Latin American and Caribbean content en ingles y español. 🐚

Please contact us with your ideas or offerings. Grateful for anything you think would help! 🐬
If you are an artist, educator, writer, technologist, researcher or other human using queer methodologies or other non-normative approaches in your work, please get in touch.
Ultimate Fantasy is an NFT collection. Unsupervised Pleasures is a community practice space. The goal of this NFT drop is to raise money to sustain Unsupervised Pleasures.
No. We thought a lot about this and decided that running a Discord server for the sole purpose of promoting an NFT collection was going to require time and resources that went well beyond what made sense to us.
We also strongly felt that a model of community that centered around an NFT collection could create false incentives, potentially harming our actual community. In other words, if you're looking the next 🚀🌕, this NFT project is probably not for you.
If you still want to support our work, please join the access list to pre-mint before the public sale and to get updates on the project.
I was awarded a grant by The Mintery, an initiative by the Stacks Foundation to help artists launch an NFT collection.
Full disclosure: I hold a lot of conflicting feelings about NFTs. I'm not into manufacturing incentives or turning my art practice into a multilevel-marketing company. I am just here to raise money and want to see if it's possible to create sustainabily outside of traditional arts funding models. In short, this is an experiment and I take full responsibility for whatever comes of it.
Thanks: Thank you to The Mintery + cohort for the support over the past few months. The time and dedication you all have put into helping us launch our collections gives me hope that all is not lost on the blockchain!
It me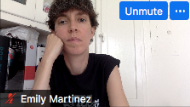 Taking full responsibility for whatever happens: Emily Martinez.
LET ME BEGIN BY TELLING YOU MY ULTIMATE FANTASY. . . Deep into your soul, you know you want me to take you to a secluded place away from the crowd and show you the beauty and ecstasy of love. No one has to see that, not your parents, not your co-workers. Or your doctor. Or your priest. The priest probably doesn't approve. The alternative. What about deep-rooted? What about love? What about deep-rooted in you? For three days I could tell you were falling in love, but the love never stopped. My love never stopped either. My skin crawled all over. When I finally did go to the hospital I told them I had AIDS. You still love me, love. And I was in the emergency room.